Automated Email Reader
The Automated Email Reader in a nutshell
The automated email reader extracts the details from automated emails and adds the contact and a deal into your system so you don't have to type.
Why would we want an Email Reader?
We want contacts to enter into our system fast and accurately so we can make things happen right away.
Copying and pasting from emails wastes hours of time and we have better things to do in our lives.
We want to increase our response rate by sending more intelligently personalised automated responses back to the enquiries quickly.
What does an Email Reader do?
An Email Reader can read any field from an automated email and map that data to any field in the Respacio CRM to create a contact and a deal, and then place that deal into a process pipeline. 
Contact details

Names, email addresses, phone numbers, notes, hidden fields etc can all be mapped easily to their corresponding fields in Respacio.

Property details

If the enquiry is for a specific property then the system will make that link and this information is can be used in several ways in later automations, for example:
We might respond to a portal enquiry automatically and give them a link to that property on our website.
We might use that property (price, type, location etc) from which to automatically search for a list of similar properties and use this list:

To drip feed properties by email if they do not respond to our initial approaches.
To send them a tracked link to this personalised list on our website, and we will know when they click on it.

Source

A source is attributed to each incoming contact and their deal. This allows us to later see and compare quality and marketing costs per lead.
The source is often used in the templated automated response. For example if the lead comes from a property portal, we might want to send them a link to the property that they enquired about on our website.

Group

Incoming contacts from an Email Reader can be automatically added to a marketing group.

Language

A preferred language can be added to the contact automatically so we can write back to them in it.

Collaborator

If this Email Reader is adding contacts introduced by a collaborator with whom we share commission, then we can add that collaborator to their records.

Assign internal users to work on the deal

Automatically assign users to work on the new contact's deal.
If we want to automatically assign the same user to work on this new deal as the user we already assigned to the property that they enquired about, then we can do that with a tick.

Sort incoming enquiries by keyword 

The Email Reader can sort enquiries based on keywords so their deals can enter into different process pipelines. For example, if a form on a landing page has a multiple selection box and that selection means that we would want to send different response emails and start distinct processes, we would want to use this.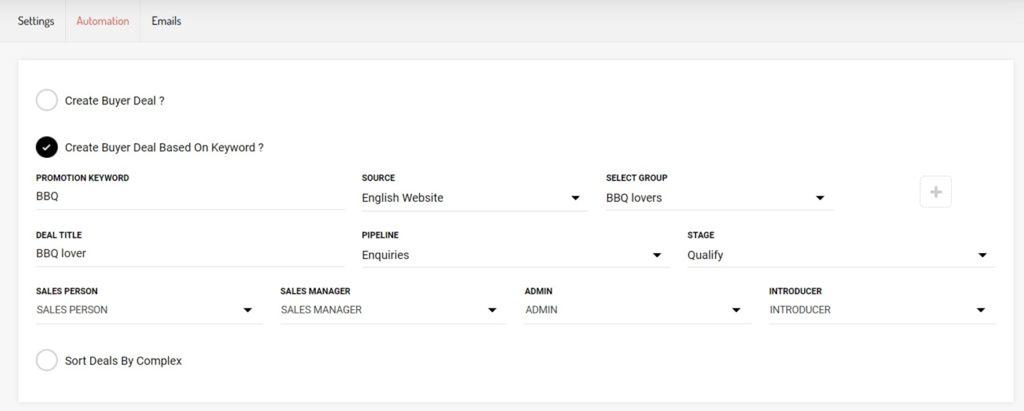 Sort based on the property enquired about

Property developers managing multiple development projects can sort portal enquiries by matching the property to the development and adding the deal to the correct pipeline.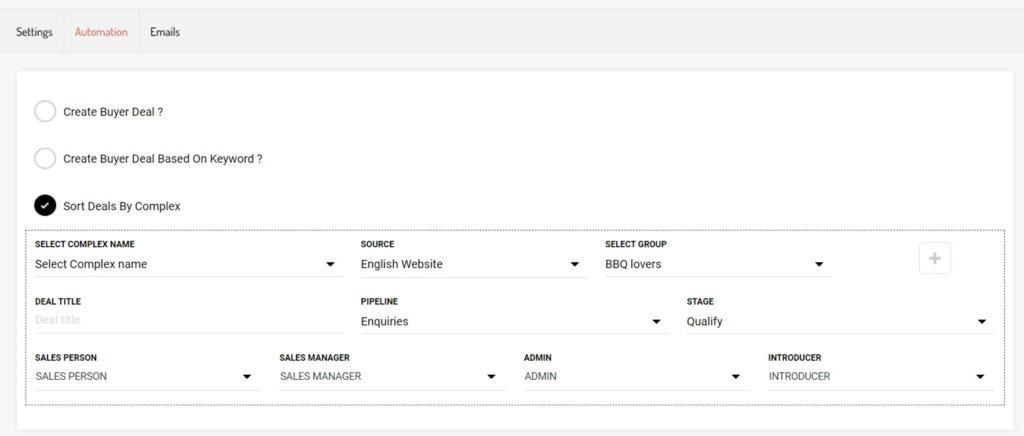 Where do automated emails come from?
In the real estate industry, the most common sources are the property portals such as Rightmove, Idealista, Zoopla, Kyero, Mimove, Green Acres, A Place in the Sun, Think Spain, James Villas… There are hundreds. When someone enquires about a property that you are advertising on any of them, their system will send an email to you, which the Email Reader will detect.
There are hundreds of other systems that also send contact lead details by email.  Form builders like WuFoo, Formstack, Paperform, Formsite, Cognito Forms, Growform, Jotform.. Again there are many, but all of them send an automated email which we can read.
Websites will often also send emails. For example, WordPress users might have plugins such as Contact Form 7, Gravity Forms, Ninja Forms or any number of others which can all
send an email for us to read. The same goes for any other website platform such as Squarespace, Wix or landing page builder like Leadpages, Unbounce, Hubspot, GetResponse or Mailchimp.
Your PPC advertising might be using inbuilt forms, in which case they will send an email or at least be able to connect to Zapier.. Which can send an automated email with the contact details. 
Online magazines and perhaps external collaborators and advertising sources may also send contact details by email to you.